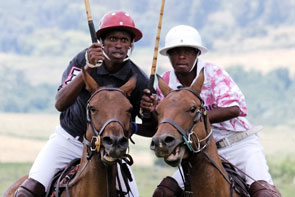 The home of the Poloafrica Development Trust is Uitgedacht Farm, located in one of the poorest but most beautiful parts of rural South Africa. The Trust uses the love of riding, polo and ponies as an inducement to encourage boys and girls from disadvantaged backgrounds to work hard both academically and vocationally, at school and at the lifeskills lessons given on the farm. The Trust also provides opportunities for talented underprivileged adults to flourish as true equestrian professionals, whether in playing the game, in pony care, schooling ponies or coaching others. The Poloafrica Development Trust is a force for good in the local community and a catalyst for change in polo in South Africa. We are proud that Poloafrica players today are setting an example of grassroots transformation in sport in South Africa.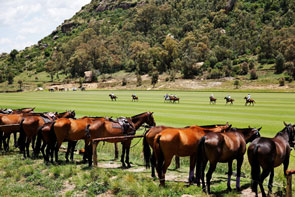 Poloafrica brings you wonderful polo opportunities on Uitgedacht Farm, set in the foothills of the spectacular Maluti mountains in the Eastern Free State of South Africa. In choosing to holiday with us you will be providing much needed funds to support the Trust and so helping a rural community and an educational and sport development programme unique in Africa. Polo is widely recognised as a sport for very privileged individuals and so this is a way for the international polo community to use the sport they love for wider benefit. The ponies and polo facilities are second to none and your stay at the lovingly restored sandstone farmhouse or in one of the charming rustic cottages will be one to remember. Uitgedacht Club is affiliated to the South African Polo Association, which follows Hurlingham Polo Association rules.
2019 is the 150th year anniversary of the game of polo as we know it today. The UK Armed Forces Polo Association is leading these Polo 150 celebrations and has invited a team from Poloafrica on tour as part of the festivities in June. This team of young players from the poorest and most educationally deprived levels of South African society, touring as guests of the organisation that invented the modern game, is attracting widespread interest. The tour will culminate in games to be played at 12pm at Cirencester Polo Club on Saturday 22 June and at 5:30pm at Guards Polo Club on Sunday 23 June when the Finals Day of the Royal Windsor Cup is traditionally attended by Her Majesty the Queen and a large number of celebrities and VIPs. More background about the team and the tour can be read here (pdf).